Top 5 Digital Marketing Trends for 2019
As we enter the new year, is your business prepared to make a splash in the digital world? Set yourself apart from the competition in 2019 by incorporating these Top 5 Digital Trends in your marketing strategy.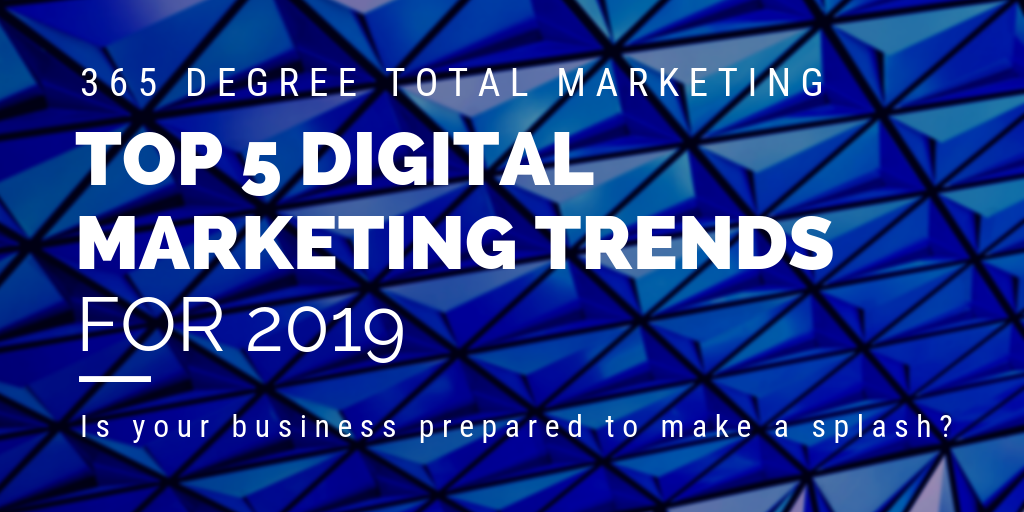 I. SEO – Content and Performance
Website speed and mobile optimization are more important than ever in 2019. Having a website is great, but if it isn't loading interactive and visual content quickly, it's just not good enough now-a-days. According to a study by Kissmetrics, 47% of users expect your website to load completely in under 2 seconds. If your website takes over 3 seconds to load, 40% of users will abandon it and click away. That's a crushing loss of 40% of your potential leads and conversions! Similarly, mobile optimization is absolutely necessary. Nearly 53% of all online content is viewed using mobile devices. Google also uses mobile performance as one of its top-ranking factors for search results. If your website is not utilizing responsive design and is not optimized for mobile devices, now is the time to change that.
II. Immersive Visuals – 360º Photography & Videography
360º photos and videos are a digital trend that simply cannot be ignored in 2019. When compared to traditional content, 360º content yields over 1300% more engagement and 410% more return on investment. The immersive experience that is provided with 360º photos and virtual tours can be the secret ingredient for your business to cultivate engagement and interest. Studies show that 29% more people viewed a 360-degree video than the same video in traditional format. 360º photo and video can lend itself to so many different types of content. From event coverage and interviews to interactive brand experiences and virtual tours, the marketing applications for 360º media are limitless. Refresh your marketing strategy by tapping into this dynamic content format in 2019.
III. Personalization
Personalized marketing is not a brand-new concept. It's something that has been growing and evolving for the last decade. Now in 2019, customers have come to expect some degree of personalization in the marketing content that is served to them. In terms of B2B interactions, 75% of consumers report that they expect companies to send them personalized offers. More than half of consumers expect that companies will predict their needs and make relevant suggestions in the first point of contact (State of the Connected Consumer – Salesforce). Personalization saves the viewer time and therefore provides value. Ensure success for your marketing campaigns this year by crafting content tailored to individual customer's interests and needs.
IV. Video Marketing
One-third of online activity is spent watching video, so it should come as no surprise that video is bigger than ever in 2019. From utilizing YouTube TrueView video ads in your pay-per-click campaigns, to incorporating live video, video stories and video ads into your social media strategies, the options for embracing this digital trend are endless. Finding a way to make video work for your business is vital in 2019.
V. Voice Search
It is estimated that 39 million Americans use voice-activated smart speakers. So it only makes sense that by the year 2020, 50% of all online searches will be voice searches. What does that mean for your website? Take advantage of this trend in user behavior by optimizing your website for voice search in 2019.