The Perfect Travel Brochure
365 Degree Total Marketing has been creating travel brochures for over three decades. We are more than a marketing company, we take pride in partnering with our clients to achieve tourism industry excellence. We know the questions to ask. We recognize the brochures that jump off the shelves and note which ones collect dust. Tourism dollars are hard earned (believe us, we've done the research). Let our experience in building brilliant travel brochures get results for your community and tourism bureau.
Tips for Creating the Most Effective Travel Brochure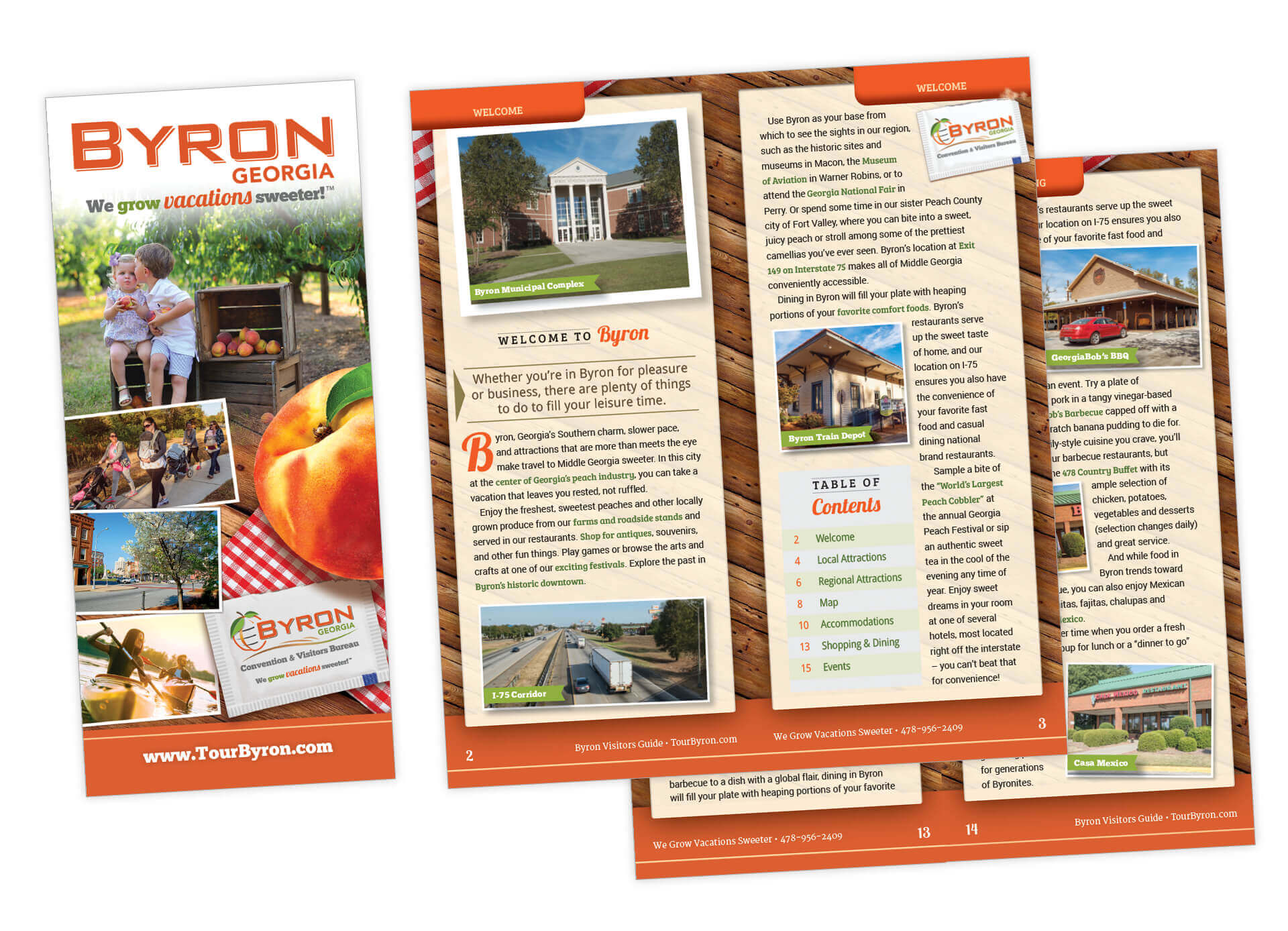 Start with your distribution plan.
How will you distribute the brochure? Is it for tourism conferences, visitor centers, to put in guest packages, or distribution at hotels? Each market requires a slightly different approach.

The most common use of the travel brochures is distribution at state welcome centers and local and regional visitor centers, which is an effective way to reach the leisure traveler.
Plan to send a minimum of 200 copies of your brochure to the state welcome centers and 50-100 to the local and regional centers. Check back once a quarter to replenish their stock.

Next, find a "unique hook."
What will make a visitor drive off the highway or create an entire vacation around your destination? The name of your town (or county) is not the answer. Think experiences.
The top 1/3 of your front cover must show this "hook" in just a few words.
Also create a powerful visual impression in the top 1/3 with type font, colors and photography. Emphasizing this part of the brochure is part of our travel and tourism marketing strategy. Information Centers often display brochures in a rack, and your brochure may have other brochures in front of it. The top 1/3 may be the only visible part of the brochure. And, in many cases, you will need to catch the viewers' attention from across the room.
The "WOW" factor needs to be in the first panels.
Start with the best attractions and experiences. What will make the visitor stop their busy lives and visit your destination? Do not alphabetize or try to keep every member of the tourism board happy – getting results and visitors to your destination is what will truly please them.



Use gorgeous, and we mean gorgeous, photography.
If the grass is not green or the sky is dull, throw it away. Also make sure your photography reflects the market demographics you are targeting and shows appropriate diversity.
After you have captured their eye with the visuals,
give them the highlights of each attraction. Narrative copy is important for an older market, but highlights or bullets work for everyone. And all readers need the street address, prices (if relevant), hours and website.
If you are distributing the brochure all over the state,
we recommend a general map on the back cover so the viewer can quickly see how close you are to their original destination. Additional maps are vital for in-town use.
Size of the brochure is important.
4" x 9" is the most common size and fits all brochure racks. If you want something "different", 5"x 8" is still a convenient travel size, but you may run into issues based on how the distribution center racks are set up.
Paper: Use a vertical striation on the paper, not a horizontal.
Any good printer knows this, but we have seen brochures flopping over in the rack because of this error. Also, use a minimum of 70# text paper on brochures and a 100# cover stock or 14 pt. card stock for rack cards.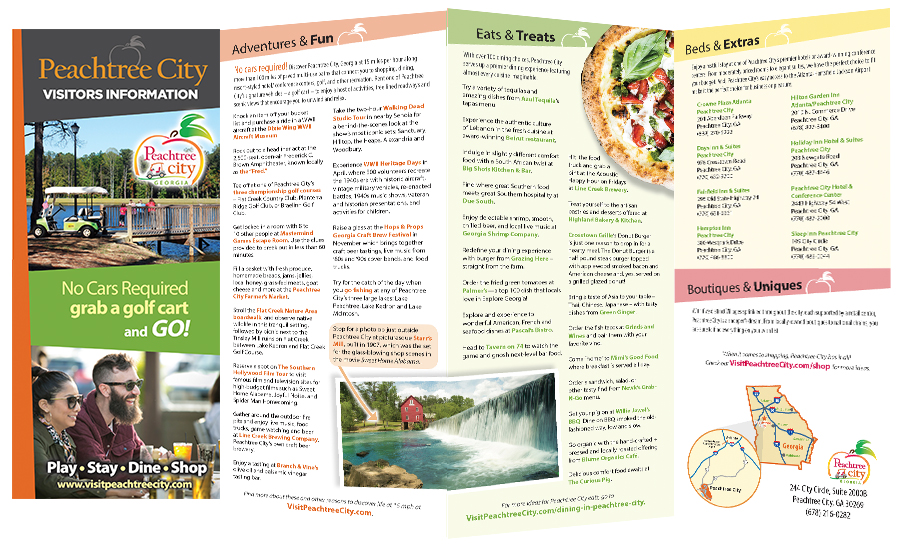 Ask their questions before they do...
General travel brochure content rules
Attractions, activities and experiences

What is there to do? Start with an overview of what your destination has to offer. Lead into the specific attractions, activities and experiences to "hook" the reader.
What makes this destination unique? Show off your location as one-of-a-kind with photography and narrative content. Look for obscure, uncommonly visited options.
Don't forget: historical stops, agricultural stops, arts & culture, boat ramps, etc.

Shopping & Dining

Where can I shop & eat? Now that you have convinced them to come to your destination, expand on their experience by featuring the area's shopping & dining. If your shops and restaurants change frequently, supply an overview and just a few highlights. What are they known for? (buttermilk pie, farm to table, great specials, etc.)

Maps for convenient location

How do I get there?When possible, include an attractive, easy to use map with the main points of interest on the brochure numbered and located.

Hotels

Where should I stay? You've given them all the reasons to come and to stay. Now show them where they need to stay for the night, a weekend getaway or a week-long vacation. List your hotels and their amenities.

Event Calendar

When's the best time for my next visit? Give them a reason to plan a new trip to your destination. List your annual events, concerts and festivals.

Extras

Reach out to your area's tourism professionals, hotel and restaurant staff and travel agents. What are the most common questions they are asked? Now answer them: bike rentals, boat ramps, fishing guides…
Do they accept pets? More than 27% of the travel market is traveling with pets now. Don't forget to list pet-friendly options.
With over 30 years of experience crafting travel publications, 365 Degree Total Marketing specializes in curating visitor information that inspires and delivers. We've done the market research. We're on top of the trends. And we'd love to secure the same benefits for you and your area as we have for countless other destinations.