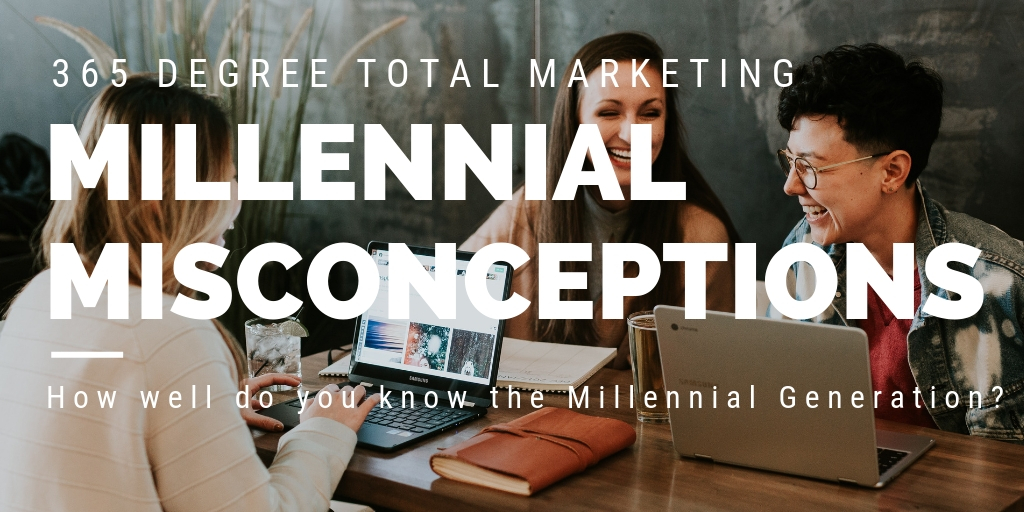 Millennial Misconceptions
How well do you know the millennial generation?
We break down common millennial myths to bridge the gap between fact and stereotype.
MYTH #1 - They don't read print (or at all).
FACT- 72% have recently read a printed book—
compared to 61-66% of Gen X and Boomers.
Millennials dislike formal writing but enjoy a well-written article or clever blog post. They are known to scan information, which makes lists, interesting headings and subheadings, graphics and great photography important when targeting this misunderstood audience.

MYTH #2 – Their numbers are marginal.
FACT – Globally, Millennials have outnumbered
Baby Boomers and Generation X for more than 25 years.
With the relative economic and social stability of the 1980s and 90s, creating the next generation was a top priority for many people in the U.S. and around the world. At its peak, the U.S. Millennial population hit 83 million, while the U.S. Baby Boom peaked at just 78 million in the post WWII era.
MYTH #3 – They would rather rent than own.
FACT – Millennials make up 42% of the current home buyer market with a median age of 36 and a median income of $87,500.
While this generation is more mobile and transient than previous generations, we cannot discount their desire to put down roots in the place they reside. Good schools, solid public amenities and a favorable business climate can be major factors in home buying.

MYTH #4 – They aren't decision-makers.
FACT – By 2020, Millennials will comprise 50% of the workforce and in the last five years, 87% of Millennial workers took on management roles.
Although they may manage organizations differently than their predecessors, Millennials are climbing up corporate ladders across the country. As Boomers and Generation X retire or phase out, Millennials will be the majority decision makers for businesses of all types.
MYTH #5 – They are broke and unmotivated.
FACT – By 2020, Millennials will have $1.4 trillion in spending power, and according to a recent study, 66% have a goal to start their own business.
Generally, they seek financial stability and often choose to be frugal. As Millennials harness technology and develop new pathways to make money (and spend money), they want more control of their own fate. It's a sink or swim situation, but they are eager to make connections within their community or industry and modify their processes if necessary.

What does all of this mean in the context of tourism, economic development and business?
The Contemporary Tourist wants…
an insider's view
to vacation like a local
a publication that gets to the point— Don't "sell me," just tell me
to know the personality of a place
to be introduced to obscure points of interest
to know the identity of the area's neighborhoods and districts
an authentic experience that is unique to the place they visit
to connect with the people they are traveling with
Recent trends speak directly to these desires. Top-ranking attractions showcase an interest in education and culture with art and history museums (65%), aquariums (59%) and science museums (56%) coming before theme parks (55%). Millennials want "authenticity" and "experiences" when they explore new areas, and the way they spend is fueling the growth of AirBnB rentals (vs. hotels) and local restaurants (over chains).

Millennial families are the primary drivers of travel growth, making up 16% of all U.S. travelers annually. In 2017 alone, millennials went on 36.9 million vacations and spent $50.4 billion on leisure travel. In order to capture this emerging generation, the tourism industry must offer experience-based tourism that reflects the priorities and values of Millennials.
The Millennial Community Leader wants…
an organization that asks them to start things, not join things
to attend "experiences" more than "events"
to invest in an organization with knowledge of ROI, not "pay dues"
to collaborate with fellow leaders, not simply "volunteer"
an authentic experience that is unique to the place they live
Chambers of Commerce, government, and communities will all be reshaped as today's "young professionals" become tomorrow's executives. Chambers will have to work harder (and smarter) to engage Millennials. Transparency and honesty are key when dealing with Millennials. If your organization is not authentic with its ethos and presentation, they will see right through it.

Thanks to their school experiences, many Millennials are team oriented and seek to collaborate. Once they are in your organization, empower them to build the business and social network with others in their generation. They'll likely be adept at social media and other contemporary forms of organizational communication so put them to work.