Custom
Printing
---
Opening a brochure is like opening a world of possibilities. Let 365 Degree Total Marketing's award-winning team write, design, build, and color your world to life.
You have a unique story to tell, and our pens are in hand, ready to tell it one panel at a time.
Eye-catching Design
Target Market & Editorial Research
Professional Writing & Editing
With more than 30 years of experience, national and international awards under our belt, and an outstanding group of creative professionals on our team, 365 Degree Total Marketing is your team of marketing professionals – your writers, designers, photographers, videographers, publishers, project managers, web developers, personal cheerleaders and more, ready to bring your creative vision to life from concept to completion.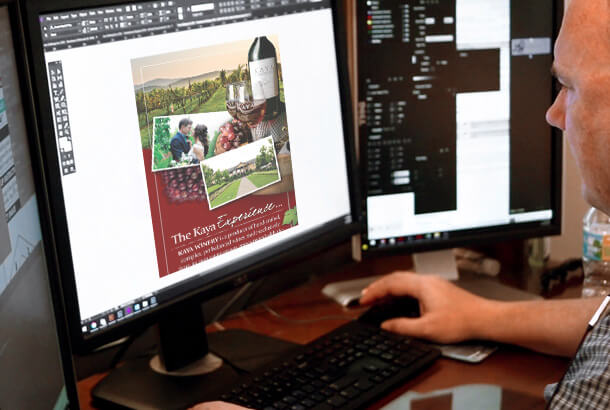 Custom Print Marketing Items:
Annual Reports
Banners
Brochures
Business Cards
Flyers
Folders
Posters
Postcards
Rack cards
Signs
Stationery
Table-top Displays
And more!
Pull-up Banners

Caldwell Chamber of Commerce
North Carolina

BannersOutdoors

Impact Cards

RackcardsPostcardsTentcards

Reports & Newsletters

Coffee County School System
Georgia

AnnualReportsNewsletters

Billboards

BannersOutdoors

Table Top Display

Coral Hospitality

RackcardsPostcardsTentcards

Van Wrap

BannersOutdoors / Ads / Others

Ad

City of Lavonia/Franklin County
Georgia

Ads

Stationery

Franklin County Community
Georgia

Stationery

Van Wrap

Glynn County Animal Shelter
Georgia

BannersOutdoors / Ads / Others

Pull-up Banners

BannersOutdoors

Banners

Gordon County Chamber
Georgia

BannersOutdoors

Rackcards

Key Life Charters
Florida

RackcardsPostcardsTentcards

Billboards

McIntosh County Development Authority
Georgia

BannersOutdoors

Billboards

BannersOutdoors

Pull-up Banners

BannersOutdoors

Visitor Center Display

Port Wentworth CVB
Georgia

BannersOutdoors

Billboard

Richmond Hill CVB
Georgia

BannersOutdoors

Rack Cards

Richmond Hill CVB
Georgia

RackcardsPostcardsTentcards

Visitor Center Display

Richmond Hill CVB
Georgia

BannersOutdoors

Stationery

Taylor County Community
Georgia

Stationery

Stationery

Thomasville Chamber
North Carolina

Stationery

T-Shirt

Three Rivers Regional Commission
Georgia

Others

Tear Drop Banners

Three Rivers Agency on Aging
Georgia

BannersOutdoors

Brochure

National Poultry & Food Distribution Association
Georgia

BrochuresFlyers

Advertisement

BrochuresFlyers

COSC & ASCP Conference Event Brochure Cover

Sponsorship Flyer

Boys & Girls Club
Georgia

BrochuresFlyers

Postcard

Cheryl Newby Gallery
South Carolina

RackcardsPostcardsTentcards

Annual Report

AnnualReportsNewsletters

Brochure

Southeast Georgia Joint Development Authority
Georgia

BrochuresFlyers

Half-Page Ad

Richmond Hill CVB
Georgia

Ads

Tubing Rack Card

Helen Water Park & Tubing
Georgia

RackcardsPostcardsTentcards

Valentine's Day Flyer

Exclusively Designs
Florida

BrochuresFlyers

Brochure

CuddleUp Cabin Rentals
Georgia

BrochuresFlyers

Rack Card

Beyond Imagination Landscaping
Georgia

RackcardsPostcardsTentcards

Rackcard

RackcardsPostcardsTentcards

Economic Development Brochure

Effingham County Industrial Development
Georgia

BrochuresFlyers

Billboard

Franklin County Chamber
Georgia

BannersOutdoors