Meet
the Team
---
Our award-winning branding team consists of more than 20 professionals with extensive destination marketing experience.
Yes, it is all about the team. And this is the team to make it happen.
Three award-winning writers/editors with journalism degrees
Four graphic designers trained in the latest technology
Three photographers/videographers with artistic eyes and great attention to detail
IT programmers and SEO specialists who keep us on the cutting edge
Seven sales executives who are dedicated & driven
Four administrators who see to all the details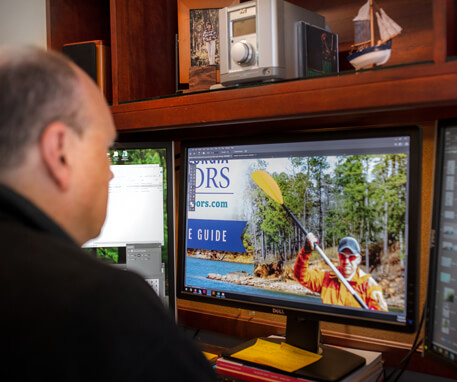 ---
You just hired 27 professional employees who will make your life easier!
Administration
As CEO and co-owner of 365 Degree Total Marketing, Linda oversees every client project from concept to completion. With a master's level education from Mercer University and Georgia State University, she has degrees in psychology and education, and she taught psychology at Clayton State College in the Atlanta area. She also worked with Texas Instruments managing a division of their marketing department before starting Great Southern Publishers in 1984. As a marketing and branding expert, she leads the external processes and community meetings.

Full Bio Video

Amy has over 20 years of experience in Accounting and I.T. Graduating from Pensacola State College in Business Management with a emphasis in Marketing, she has extensive experience managing staff and deadlines. She ensures that every project goes according to budget and schedule while going above and beyond for all of our clients. Amy is skilled at taking the brand to the next level, incorporating signage, uniforms and logo'd specialty items into long-term client strategies. Off the clock she enjoys traveling, spending time with her family, home improvement projects and voluteering. Video

Sharee comes to 365 Degree Total Marketing with more than 15 years of experience as an office manager. Her sunny disposition is the first welcome our clients receive either in person or over the phone. As the Office Manager and Proofing Coordinator, Sharee handles customer service from the first phone call to ensuring all advertisements in our guides are proofed to perfection. Video

Connie is your go-to team member for accounts receivable, sales reports, scheduling and special projects. She always delivers service with a smile. Connie graduated from Georgia Southern University (Go Eagles!) with a BA in International Economics and German. She has more than 20 years of experience in the publishing industry. Video
Photography & Videography
Mike Schalk is a seasoned and talented photographer. Originally from Coral Springs, Florida, Mike moved to the Georgia coast to complete a BFA in Photography at Savannah College of Art and Design. He has traveled the country capturing the vivid and vague differences that define our communities and cultures. Today, he brings that perspective and experience to the 365 team, our projects and our clients. Mike finds solace in a darkroom or behind a 4x5 camera, which has contributed greatly to his skill for and understanding of photography and videography. Video

Editorial
Since the company's inception in 1984, Mark has served as its executive editor, co-owner and president. Holding a journalism degree from Mercer University, Mark contributes articles to various client magazines and monitors all other copy and designs produced by the editorial and production teams, taking ultimate responsibility for the editorial integrity of all 365 publications.

Full Bio Video

Teresa manages the day-to-day editorial and production process of 365's publications, including research, writing and editing, and ensures that the editorial and design of each publication complement each other. She holds degrees in journalism and political science, earning her Bachelor's degree from Georgia State University. Her 30-year career includes writing and editing for publications and nonprofit associations. Video

Andrew has extensive experience as a reporter and columnist, during which he covered sports, education and local features. He holds a bachelor's degree in Sports Communication & Journalism from Marist College and a master's degree in Sport Management from Georgia Southern. At 365, Andrew creates inspired editorial content for our community guides, websites and branding and custom publishing projects. Andrew has an undeniable talent and passion for telling the unique stories of the people and places 365 is proud to serve. He is a New York state native and enjoys spending time at the beach with his wife, daughters and dog, Tilly. Video
IT & Digital Marketing
A native of Berlin, Germany, Thomas Schaefer moved to St. Simons Island in 2011 and joined the 365 team in 2014 as the Director of Interactive Technology. After earning an MS in Computer Science, Thomas now gets to apply his passion for technology to his daily tasks and is responsible for managing projects, website programming, SEO and hardware & software maintenance. Video

Certifications:

Nate is an experienced Network Engineer and IT Consultant. His background paired with excellent customer service skills and a fervent interest in technological advances makes Nate a wonderful addition to the 365 IT team. Nate loves the outdoors, surfing and taking advantage of living on the beautiful Georgia coast. Video

Certifications:
Sales
Cindy Bailey started out as a 365 client for many years. With 15 years as a Chamber president, Cindy has won state marketing awards, legislative designations, and grants and fostered continued growth in tourism numbers for both regions. Cindy is a certified Travel Marketing Professional through STS, past President of the Northeast Travel Association, and a past board member of GACVB and GACCE. Video

Brenda, along with her husband, Ed, moved to North Myrtle Beach where, in her position as Sales and Marketing Director of the North Myrtle Beach Chamber of Commerce & CVB, she was instrumental in launching their first Visitors Guide. Brenda puts more than 40 years of experience, coupled with her educational background in sales and marketing, to make each project perfect for her clients. Video

Beverly Dawson

Regional Marketing Manager

Beverly holds a Bachelor of Arts degree in Business Administration from Northwood University and brings more than 25 years of marketing and sales management experience to the 365 Sales squad. She has worked in almost every area of advertising and marketing, including SEO/SEM and social media management, competitive intelligence, marketing strategy, re-branding, and much more. She has also worked in television production and is well-versed in creating multi-media, multi-market advertising campaigns. Beverly currently resides in Macon, Georgia where she is active with the Chamber of Commerce and serves on the Board of Directors for Career Women's Network.

Jessica Spearman

Regional Marketing Manager

A native of St. Simons Island, Georgia, Jessica joined the 365 team in November 2019. Filled with boundless energy and an exceptional passion for her work, Jessica prides herself on her ability to develop marketing plans, brand strategies, and effective advertising collateral for clients of all sizes. Jessica applies her 10-plus years of marketing and advertising experience to handle any client need, tackling challenges with solution-based results. In her free time, Jessica enjoys spending time with her kids and volunteering for local civic organizations.

Patty Mungo is an enthusiastic professional with more than 15 years of experience in sales and marketing. Prior to joining 365 Degree Total Marketing, Patty worked as a customer service associate with Sandhill Telephone Co-op in Jefferson, SC, and as marketing director for Visit South Carolina, LLC in Myrtle Beach. Patty also has been involved for 10 years in fundraising and managing day-to-day activities of her local United Way. Residing in Murrells Inlet, SC, Patty is now 365's regional sales executive for the Carolinas. Video

Heath Slapikas has more than 25 years of experience as a leader in marketing. He has led the process of integrating digital media into the print world within multiple organizations. Heath has a strong knowledge of interactive technology and excels in leading the process of website development from concept to completion. In his spare time, Heath loves to spend time outdoors at the beach with family or fishing.
Video

Nelson came to 365 Degree Total Marketing equipped with great sales experience from his tenure with the Forsyth County Chamber of Commerce and also Wolf Camera Corporate. He is well-suited for his job with 365, which provides him the opportunity to benefit both his advertising customers as well as his Chamber and CVB clients. A graduate of the University of Georgia, Nelson lives in Cumming, Ga. Video