Meet
the Team
---
Our award-winning branding team consists of more than 20 professionals with extensive destination marketing experience.
Yes, it is all about the team. And this is the team to make it happen.
Award-winning writers/editors with journalism degrees
Graphic designers trained in the latest technology
Photographers/videographers with artistic eyes and great attention to detail
IT programmers and SEO specialists who keep us on the cutting edge
Sales executives who are dedicated & driven
Administrators who see to all the details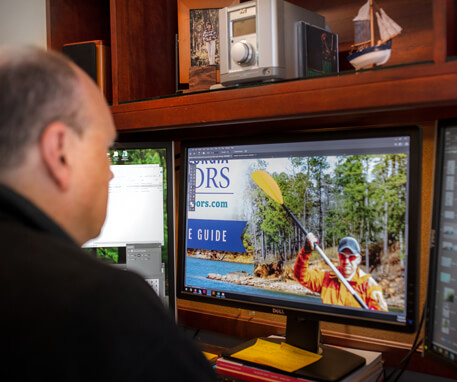 ---
You just hired 27+ professional employees who will make your life easier!
Administration
As CEO and co-owner of 365 Degree Total Marketing, Linda oversees every client project from concept to completion. With a master's level education from Mercer University and Georgia State University, she has degrees in psychology and education, and she taught psychology at Clayton State College in the Atlanta area. She also worked with Texas Instruments managing a division of their marketing department before starting Great Southern Publishers in 1984. As a marketing and branding expert, she leads the external processes and community meetings.

Full BioVideo

Glenn Carson

Senior Director of Operations

Glenn recently joined the 365° Total Marketing team after decades of experience in a wide variety of industries. In addition to financial management, Glenn works with the entire team to assist in delivering from concept to completion for our clients. With experience in broadcasting, publishing, banking, insurance, and management, Glenn brings a broad scope of knowledge to every project. His work in academia and fundraising lends historical perspective and an interest in the bottom line. He is listed as a Humanitarian in the 2021 Marquis Who's Who.

Connie is your go-to team member for accounts receivable, sales reports, scheduling and special projects. She always delivers service with a smile. Connie graduated from Georgia Southern University (Go Eagles!) with a BA in International Economics and German. She has more than 20 years of experience in the publishing industry. Video

Mary Marlow

Publishing & Marketing Services Coordinator

Here at 365° Total Marketing, Mary uses her skills in marketing, editorial, and administration by doing a little bit of everything including managing promotional items, communicating with advertisers in all publications, and ensuring the staff is supported throughout every endeavor. As the Publications and Marketing Services Coordinator, born and raised in Conyers, GA, Mary uses her 12 years of customer service experience to ensure each client feels a connection - as well as has their wants and needs met perfectly.
Photography & Videography
Bobby Haven

Photographer, Videographer

A professional photographer for more than three decades, Bobby cut his teeth in daily news, capturing the essence of the communities he covered through evocative and powerful images. Armed with a BFA in photographic design from the University of Georgia, Bobby has earned over 100 photojournalism awards. Bobby brings with him a commitment to excellence and welcoming demeanor to the clients of 365° Total Marketing, conveying their vision and showing them in the best light possible. In his free time, Bobby enjoys traveling with his wife and shooting wildlife photography.

Gavin Ross Dunn

Photographer, Videographer

Gavin Dunn is a self-professed workaholic with a degree in digital production and a love all things outdoors. He comes to 365° Total Marketing after 11 years in multi-media production working for Aflac. Gavin has a passion for creating impactful videos using a vast skillset that elevates every project he touches. His vision and commitment to going five degrees beyond for clients brings a new level of excellence to 365. In his spare time, Gavin enjoys anything outdoors and is an avid bass fisherman who has completed the Georgia Bass Slam, catching all 10 species of black bass that live in Georgia.
Editorial
Teresa manages the day-to-day editorial and production process of 365's publications, including research, writing and editing, and ensures that the editorial and design of each publication complement each other. She holds degrees in journalism and political science, earning her Bachelor's degree from Georgia State University. Her 30-year career includes writing and editing for publications and nonprofit associations. Video

Lydia Cobb

Associate Editor

Lydia Cobb brings 25 years of experience in communications for culture- and environment-focused businesses and nonprofit organizations. Her writing and news media relations contribute to our public understanding of biodiversity, culture, destination travel and history. She has collaborated with notable and award-winning organizations to deliver compelling stories through interpretive writing for parks and museum exhibitions, and destination and leadership profiles featured across media. She has a degree in sociology from Maryville College and a natural curiosity to explore the world. Lydia enjoys kayak surfing, writing, animals, and time with family and friends.
IT & Digital Marketing
A native of Berlin, Germany, Thomas Schaefer moved to St. Simons Island in 2011 and joined the 365 team in 2014 as the Director of Interactive Technology. After earning an MS in Computer Science, Thomas now gets to apply his passion for technology to his daily tasks and is responsible for managing projects, website programming, SEO and hardware & software maintenance. Video

Certifications:

Kenneth Brook

Web Developer / SEO

Kenneth Brook is 365° Total Marketing's website/SEO programmer, responsible for the multitude of tasks that give our website clients maximum digital marketing exposure. A native of Indiana, Kenneth served in the U.S. Army for 12 years, finishing his service at Fort Stewart, Georgia.
Kenneth has 25 years of web development experience, and he is a 2021 graduate of Lambda School where he learned the newest technology in software engineering. After hours, Kenneth enjoys live music, online gaming, and building software-related projects to keep his skills relevant.
Certifications:

Lauren Doucet

Digital Marketing Strategist

Lauren came to 365 after more than six years as a digital marketer in the hospitality industry for a beach and golf resort. Lauren has an eye for design and brings creative insights to campaigns by incorporating her knowledge of consumer behaviors and digital platforms into a cohesive package. Her focus is digital and influencer marketing as well as social media management and content creation to engage audiences and enhance brand awareness. She is a Louisiana native and Louisiana State University graduate with a Bachelor of Science in Marketing and Minor in Biological Sciences. Lauren is also an advocate in her community and is a founding member of the Junior League of the Golden Isles.


Certifications:
Sales
Cindy Bailey started out as a 365 client for many years. With 15 years as a Chamber president, Cindy has won state marketing awards, legislative designations, and grants and fostered continued growth in tourism numbers for both regions. Cindy is a certified Travel Marketing Professional through STS, past President of the Northeast Travel Association, and a past board member of GACVB and GACCE.
Video

Beverly Dawson

Regional Marketing Manager

Beverly holds a Bachelor of Arts degree in Business Administration from Northwood University and brings more than 25 years of marketing and sales management experience to the 365 Sales squad. She has worked in almost every area of advertising and marketing, including SEO/SEM and social media management, competitive intelligence, marketing strategy, re-branding, and much more. She has also worked in television production and is well-versed in creating multi-media, multi-market advertising campaigns. Beverly currently resides in Macon, Georgia where she is active with the Chamber of Commerce and serves on the Board of Directors for Career Women's Network.

Heath Slapikas

Director of Web Development

Heath Slapikas has more than 25 years of experience as a leader in marketing. He has led the process of integrating digital media into the print world within multiple organizations. Heath has a strong knowledge of interactive technology and excels in leading the process of website development from concept to completion. In his spare time, Heath loves to spend time outdoors at the beach with family or fishing.


Nelson has been with 365° Total Marketing for more than a decade and brings a wealth of sales and leadership experience to our team. Currently he is the Leader of Encouragement to a sales team of six.
He regularly meets and works with clients across a variety of industries and takes a service-minded approach to accomplish his clients' goals. Whether the project is a community magazine, area map, website, or brand development, Nelson applies the knowledge he's attained through his extensive work with Chambers of Commerce, CVBs, and businesses across the Southeast. A graduate of the University of Georgia (Go Dawgs!), Nelson lives in Cumming, Ga., focusing on metro Atlanta as well as central and north Georgia. He loves the ocean, kayaking, the outdoors, tennis, and time spent with family and friends. Video
Agency
Since the company's inception in 1984, Mark has served as its executive editor, co-owner and president. Holding a journalism degree from Mercer University, Mark contributes articles to various client magazines and monitors all other copy and designs produced by the editorial and production teams, taking ultimate responsibility for the editorial integrity of all 365 publications.

Full BioVideo

Michael Hall

Agency Director

Michael writes, edits and assists with editorial production of publications, websites and other products. He holds a journalism degree from the Grady College of Journalism at University of Georgia. Michael joined 365 after more than 15 years as an award-winning newspaper reporter, photographer, editor and publisher. He is passionate about the communities where he lives, works and plays, and brings his commitment to excellence to every project on which he works.

Jane Bozza

Director of Communications

As Communications Director, Jane handles the development and maintenance of client budgets, both annual and event driven, in local, regional and international media. She is also in charge of developing and maintaining client public relations campaigns. A former newspaper editor, her experience in public relations and marketing spans more than 40 years. Another of Jane's areas of expertise is crisis communications. Jane is a member SATW (Society of American Travel Writers), and a Public Information Officers group of local government (county, city, police, fire), hospital, county health, and Homeland Security who have joined together to help set standards/suggestions for relaying critical and crucial information to the public in a unified manner. Reading is Jane's passion, and her family is her heart.

Natalie Bishop

Director of Agency Design Services

Natalie came to 365° Total Marketing through the recent acquisition of Faulkenberry Certain Advertising (FCA) where she held a position fulfilling the duties of art director, graphic designer, web designer, and production designer for 14 years. Prior to her tenure at FCA, she worked in newspaper advertising and pre-press, ran a small design studio, and served as Design Director for Solovox Publishing where she designed award-winning magazines ranging from local sports and NASCAR, to Florida Beach Living. Although graphic arts is her first love, she is also a skilled artist in all types of media, from writing and photography to sculpture and illustration.

When not working at 365°, Natalie enjoys restoring her historic home in Old Town Brunswick and spending time with her three rescue dogs.