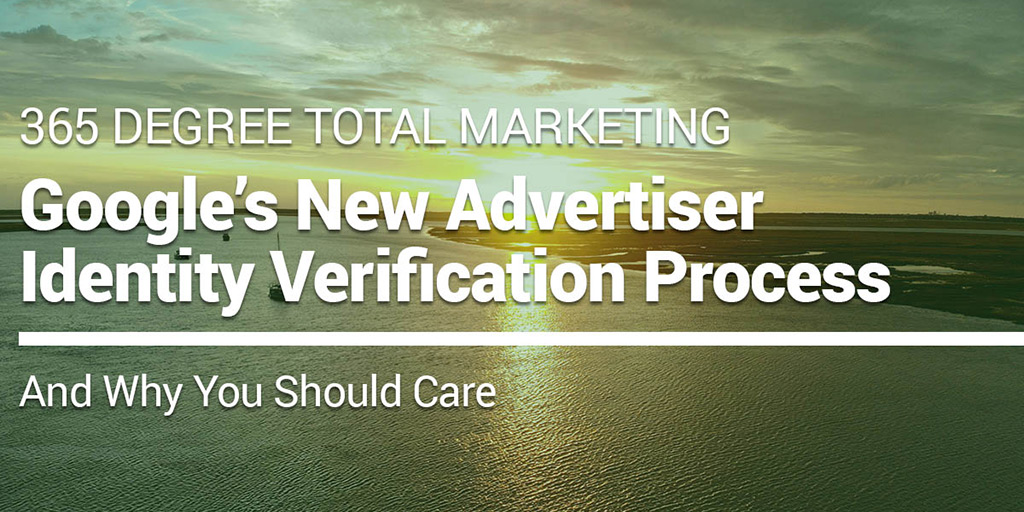 Google's New Advertiser Identity Verification Process and Why You Should Care
We all know Google sells ads on its search pages. We here at 365° Total Marketing arrange such ad buys for many of the tourism, chamber of commerce and business clients who use our digital services. In recent months, Google announced a new advertiser identity verification process that it is rolling out in phases through February 2022. This has created a lot of buzz in the tech and advertising communities but may not have registered in the minds of those in other industries or organizations. But it's important, so here's what it's all about.
Google says in the interest of transparency, it will now verify the identity of its advertisers and include a disclosure with the advertiser's legal name and location on ads served through Google Ads. In other words, Google is requiring its advertisers to prove that they are who they say they are and to confirm in which country they are operating.
What does advertiser identity verification mean for consumers?
Users will now be able to see an ad disclosure linked from the "Why This Ad" button detailing who is the advertiser paying for any ad served through Google Ads or Display & Video 360.
Three primary reasons Google indicates it is initiating this measure are:
It limits fraudulent advertisers from misrepresenting brands and advertisers.
It empowers consumers to make better choices when using existing controls, such as Ad Setting, to customize ad personalization.
It increases trust in ads by making it easier for consumers to understand the advertiser behind each ad.
The ad disclosure will not change the look of your Google Ads, except for the addition of a drop-down arrow, and should not impact how Google Ads serve to consumers. However, if an advertiser (or agency) does not complete the documentation required by Google within 30 days, ads will no longer be able to serve from that advertiser (that is, you) until the identification process is completed.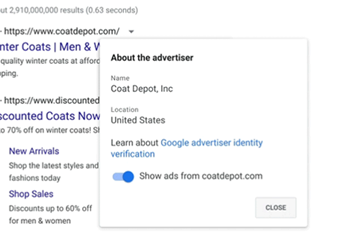 What advertiser identity verification may mean for advertisers?
This process could benefit authentic advertisers who are driving traffic to verified company websites. It could remove low quality or fraudulent competitors from the Google Ads space, although it remains to be seen how many consumers will even notice the drop-down arrow, which they would need to click to reach the verification information. If the new process does in fact increase consumer trust in Google Ads, advertisers should expect to see an increase in their click-through rates (CTR).
What documents does Google require?
As a digital marketing agency, 365° Total Marketing will require certain information from you to provide to Google if you are paying for your ads through our agency. If you are paying for your organization's ads on your own, you would need to complete Google's verification process on your own (but we are always happy to help and advise), after you receive an email from Google with instructions.
Whether 365° Total Marketing is buying the ads or you are buying the ads on your own, Google is requiring one registration document and one U.S. government-issued photo ID to verify your identity as an advertiser. Registration documents acceptable to Google include:
W9 Form
Any IRS-issued letter or notice (not IRS forms) showing your name, address and EIN (employer identification number)
DUNS (Dun & Bradstreet) certificate
Photo IDs acceptable to Google include:
Passport
State identification
Driver's license
Permanent resident card or Green card
If your Google Ads account is registered to you as an individual, the advertiser name in Google's documentation must match your name as shown on your government-issued ID. If your Google Ads account is registered to an organization, the advertiser name must match your organization's legal name, as shown in your business documents.
How long does Google advertiser verification take?
You must start the process within 30 days of notification by Google or your Google Ads campaign will be paused. The verification process usually takes three to five days once you (or 365° Total Marketing on your behalf) submit the requested documents to Google.
Google advertiser verification vs. election ads verification
Political election ads have an entirely different identification process with Google. If you intend to run election ads, you must complete Google's election ads verification instead of the advertiser identity verification. Accounts that have only completed advertiser identity verification will not be able to run election ads without also going through Google's election ads verification process.
Why is 365° Total Marketing asking me for my ID?
We at 365° Total Marketing are monitoring all our clients' accounts for Google advertiser identity verification program requests so that we can initiate the process as soon as possible. We want to make your Google verification seamless, with no pause in your Google Ads campaign, so please understand how important it is to submit your identification documents when we ask for them.
Business documents are usually a matter of public record, as is the address of your personal residence. The acceptable photo IDs make it possible for you to choose one that does not compromise the security of your private information, such as a Social Security number.
Also understand that 365° Total Marketing will use your information only to verify your or your organization's identity with Google. We will not share your information with other parties or sell your information online or offline.
Let 365° Total Marketing help you
If you are a 365° Total Marketing client and you have further questions about Google advertiser identity verification, we are happy to talk to you and, if needed, to provide additional research and/or documentation to give you the information you need.
If you're not a 365° Total Marketing client and you are struggling with identity verification, Google advertising performance, or staying on top of ever-changing issues in the digital marketplace, please call us at 365° Total Marketing, 800.697.5568. We are happy to discuss your needs and ways that we can help you.