Websites
& Mobile
---
365 Degree Total Marketing knows that your website is an opportunity to promote your brand and introduce your target audience to your community or business.
Our national award-winning website development team consists of more than 20 professionals with extensive destination marketing experience, allowing us to offer complete research, creative, planning and implementation services for your website.
365 Degree Total Marketing is organized to handle websites from concept to completion. We incorporate all the talents of our researchers, designers, videographers, photographers, communication specialists and strategic specialists into the process to create a successful website for you. Websites we have developed for our clients have won top awards regionally and internationally.
Services offered by 365 Degree Total Marketing include:
Custom Desktop and Mobile Design
Search Engine Optimization (SEO) Research
Professional Writing
State-of-the-Art Programming
Cross-Browser Testing
Website Hosting
Monthly Maintenance
Weekly Site Backup
Domain Monitoring
Monthly Website Statistics
24-Hour Turn-Around Assistance
Content Management System (CMS) Training and Manual
Troubleshooting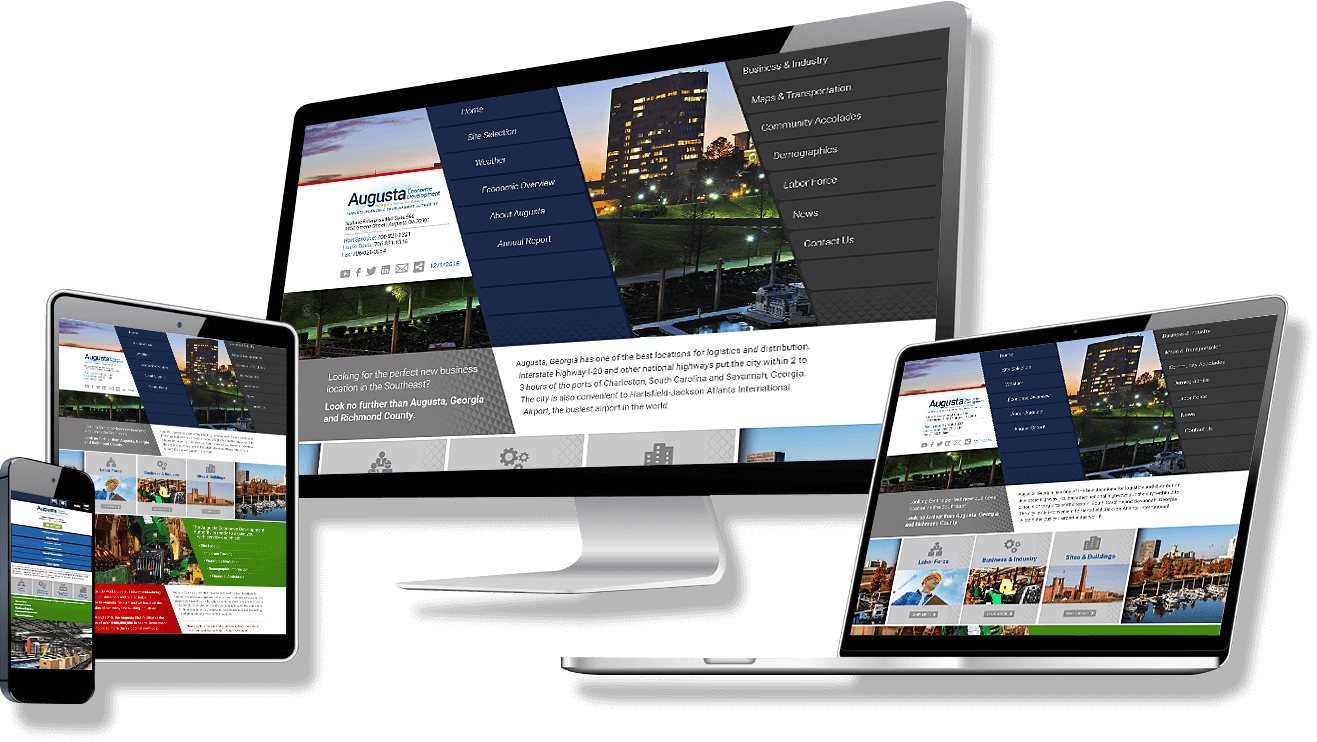 Your website must be easily navigable, visually appealing, and contain complete, accurate and sought-after information.
It is the standard by which your community or organization will be judged now and the standard goal for 365 Degree Total Marketing. Backed by award-winning designs, unparalleled web development and search engine-optimized editorial, our websites are built to draw your market back to your site again and again. We look forward to creating an internationally-ranked website for you.
Georgia Beach Rentals
Georgia

Business

Driggers Commercial
Georgia

Business

City of Byron
Georgia

Government

Catoosa County Portal
Georgia

Portals

MTR Fleet Services
Georgia

Business

Catoosa County Chamber of Commerce
Georgia

Chamber

Habersham Chamber of Commerce
Georgia

Chamber

Altama Storage Company
Georgia

Business

Epworth by the Sea
Georgia

Non-Profit

America's Best Storage
Georgia

Business

Camden Connection
Georgia

Non-Profit

Clan Donald Foundation
Georgia

Business / Non-Profit

Dickson County EDA
Tennessee

EDA

Peachtree City CVB
Georgia

CVB

ElbertonNET
Georgia

Government

Glynn General Corporation
Georgia

Business

Invest Clayton
Georgia

EDA

NC Southeast Regional Partnership
North Carolina

EDA

Polk County EDA
Georgia

EDA

Vote Keith Higgins Campaign
Georgia

Government

Precision Metal Buildings
Georgia

Business

Richmond Hill City Center
Georgia

Business

Schell & Hogan
Georgia

Business

Select Elbert EDA
Georgia

EDA

Sutter Family Practice
Georgia

Business

Connect In Wayne EDA
Georgia

EDA

Union County Development Authority
Georgia

EDA

Wilson Investigation Network
Georgia

Business

Taylor County Government
Georgia

Government

Titan
Modular Systems, INC.
Georgia

Business

Fort Valley
Utility Commission
Georgia

Government

Allen & Graham, Inc.
Georgia

Business

Banks County Gov't
& Community Portal
Georgia

Government

Towns County
Chamber of Commerce
Georgia

Chamber / CVB

Beckler's Carpet
Georgia

Business

Perry-Houston County Airport Authority
Georgia

Government

Garden Manor Village
South Carolina

Business

Murray County Chamber
& Economic Development
Georgia

Chamber of Commerce / EDA

Richmond Hill CVB
Georgia

CVB

Houston County Development Authority
Georgia

EDA

Infinite Creations Boutique
South Carolina

Business

Columbia County CVB
Georgia

CVB

Tamarack Investments
Georgia

Business

Franklin County
Chamber of Commerce
Georgia

Chamber of Commerce / EDA / CVB

BRC Signs & Graphics
Georgia

Business

Spaceport Camden
Georgia

Government

Taylor County
Chamber of Commerce
Georgia

Chamber of Commerce

Peach County Tourism
Georgia

CVB

Port Wentworth
Chamber of Commerce
Georgia

Chamber of Commerce

City of Metter
Georgia

Portal / CVB / Chamber / Government

Highway 301
Georgia

CVB / Non-Profit

Georgia Coast Travel Association

CVB

Douglas-Coffee County
Chamber of Commerce
Georgia

Chamber of Commerce / EDA

Select Candler EDA
Georgia

EDA

Dawson County
Community Portal
Georgia

Portal

Dawson County
Chamber of Commerce
Georgia

Chamber of Commerce

Cochran-Bleckley County
Chamber of Commerce
Georgia

Chamber of Commerce / EDA

City of Butler
Georgia

Government

Byron CVB
Georgia

Conventions and Visitors Bureau

Three Rivers Regional Commission
Georgia

Government

Augusta Canal
Georgia

CVB / Non-Profit

Commercial Floor Resources
Georgia

Business

Gentleman Outfitters
Georgia

Business

Clough Pecan Company
Georgia

Business

Exclusively Designs
Florida

Business

Elixir Extrusions
Georgia

Business

Grogan Disposal Company
Georgia

Business

Southern Cleaning Products
Georgia

Business

Top Of Georgia
Economic Development
Georgia

EDA

Siloam Springs
Economic Development
Arkansas

EDA, Portal

Effingham County
Economic Development
Georgia

EDA

City of Owasso
Economic Development
Oklahoma

EDA

Hawkinsville-Pulaski Co.
Economic Development
Georgia

EDA

Butts County
Economic Development
Georgia

EDA

Barrow County
Economic Development
Georgia

EDA

Bacon County
Economic Development
Georgia

EDA

Augusta Economic
Development Authority
Georgia

EDA

Polk County Chamber
& Portal
Georgia

Chamber / Portal

Wayne County
Community Portal
Georgia

Portal / Chamber / EDA

Wesley United
Methodist Church
Georgia

Non-Profit

Thomasville
Chamber of Commerce
North Carolina

Portal / Chamber