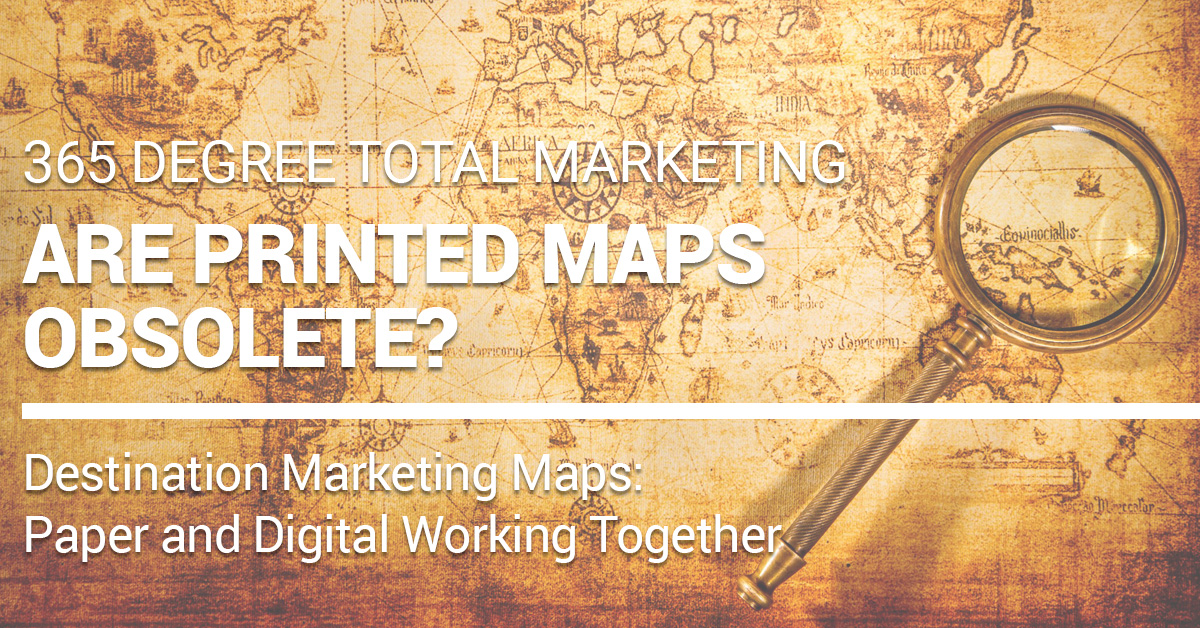 ARE PRINTED MAPS OBSOLETE? Destination Marketing Maps: Paper and Digital Working Together
Maps have been one of the most essential inventions for thousands of years, providing travelers with a guide to navigate their way on a journey, near or far. The earliest surviving maps include cave paintings, etchings on tusks, and clay tablets.
Maps help us understand the ways people, places, and ideas are connected, and how we can relate to the world around us. Beyond destinations, today's maps can be imaginary—think video games. Advanced science has us mapping brain cells, tectonic plates, and ancient cities.
So… are printed maps obsolete? Not a chance. Ask any Chamber director, Tourism/Welcome Center professional or County official. Printed maps remain one of the most frequently requested products.
Those of us dependent on GPS directions may scoff when we think of printed maps but stop and think. With GPS, you can only program in and view one destination at a time. Printed maps give you an overview and show the relationship between destinations. In the tourism industry, maps highlight various attractions, visitor centers, dining, accommodations, and numerous points of interest, allowing visitors to plan their stay. New residents can locate school districts, job commutes, grocery stores, doctors and more to plan their new routines and their new lives in the community. Potential businesses will not look at a new location without knowing where the railroads, highways, ports, suppliers, and workforce are located. They cannot do that on a GPS. Maps do much more than display a route. They are a powerful tool to tell the story about a destination.
If you need help providing your business or community with a map, 365° Total Marketing designs printed and digital destination maps for many purposes: visitors guides and pad maps, community street maps, winery and brewery tours, off-road trails, campgrounds, waterfall locations, RV boondocking off-the-grid, country roads and city streets and much more.
We have specialized in maps and destination marketing for more than 35 years. 365° Total Marketing believes in marketing that moves. Our printed maps have an engaging feel and are accurate in detail. We create precision-accurate maps using Geographic Information Systems (GIS) sourced with location data from county tax assessor offices.
Most of our printed maps also have an online presence, providing advertisers the opportunity to connect their messages with the meaningful journeys of all travelers. Click-through access connects advertisers and locations with the touch of a button – showing your business to the world.
Sponsored local business maps are maps with ads from area businesses. These maps are strategically distributed from storefronts, chamber of commerce offices, and visitor centers. They can be in the form of a large-scale pad map for ease of use, or a traditional folded road map. Typically, hotels and lodging accommodations use pad maps to help the traveler visually align with their desired destinations. The host can mark a route on the map, tear it off the pad, and send visitors on their way.
Folded road maps, featuring sponsored business locations and points of interest, provide a two-fold benefit: showing the destination resource for visitors to use and providing recognition to local businesses. These maps self-fund through the ad sales and are provided free to visitors.
City walking maps are similar to sponsored maps, but without ads. Some tourism groups develop these as a resource for visitors and simply add specific notes on area businesses to highlight on the map.
Economic Development Authorities often use maps to attract prospective businesses to their area. These map variations provide targeted messaging that a particular area is optimal for growth and is geographically well placed.
Contact us to discuss your next map. We're ready for the journey.
365° Total Marketing, an award-winning, integrated marketing agency based on St. Simons Island, GA, has extensive experience in branding, digital marketing, agency media planning, custom publishing, photography, videography, and website development. For more than 35 years 365° has worked with clients throughout the United States to attract customers and investment nationally and internationally. The company and our clients have won hundreds of awards for their marketing. Employing a full range of talented professionals to fulfill clients' marketing needs, 365° Total Marketing truly goes five degrees beyond for our clients. For more information on everything 365° Total Marketing offers, call 1-800-697-5568 or go online to www.365DegreeTotalMarketing.com.