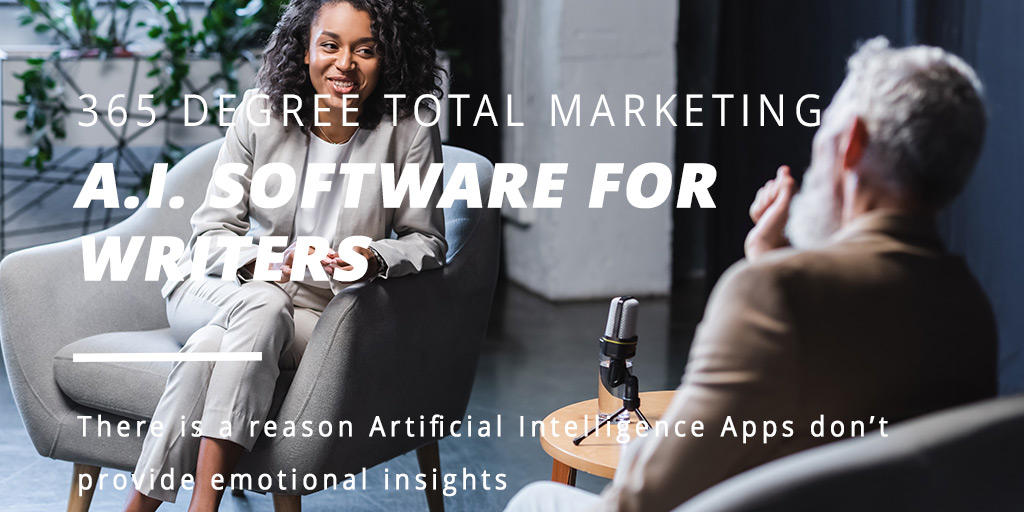 A.I. SOFTWARE FOR WRITERS. IMAGINE THAT.
There is a reason Artificial Intelligence Apps don't provide emotional insights. They can't.
Writing – there's an A.I. app for that! Perhaps you have writer's block and feel submerged in frustration about how to begin your story. Perhaps you want to save money by not having to hire a freelance writer. Options for A.I. apps are in the marketplace to help a writer generate stories and SEO content with the ease of entering keywords and hitting the return button. The more one uses the app, the more it gets to know you – to a point. And it's that point that separates your content from everyone else's.
A search of A.I. writing apps yields companies that offer to help you write: Jasper, Grammarly, and Writer, for example. I clicked one, and the free demo is accessed only by putting in a business email.
Whether you engage in a free demo or pay for a subscription, there are realities to consider about hiring a solution that does not come with a curious, compassionate, emotional, and intellectual brain behind it:
A.I. can't ask why. Let's say you're working on a CEO profile. The questions may include, "What inspired you to launch the company during the pandemic's early days?" A.I. cannot produce emotions and quotes that are in the voice of the expert interviewed.


You do the fact checking. These online tools produce sentences by taking your input words and aggregating content from across the internet. There is a lot of misinformation to sort through online, whether innocently applied or not, so it's up to you to spend the time to fact check, because sources are not provided.


Where's Waldo? The info culled from the web will make the content more general in nature and will be unable to define a "sense of place" to subjects, such as a turtle-covered island or a historic building, or supply any way of evoking the senses. Where is this place, and what makes it stand out? This can spell disarray unless you come in and polish the sourced words, again, providing an intellectual brain to deliver readers to what is real and original about your destination.


Word salad alert: When the software explains that it bills on "words per month," it refers to words that are generated. The broader the topic, there's the possibility that more words are generated, only to be edited out by you, the human. So, if you edit out half the words, you still pay for all of them.
While A.I. can be affordable in some cases. It's a good idea to quantify how many hours you would pay yourself or another writer to research, interview, write, polish and fact check compelling stories or promotional pieces.
Consider the value of insightful and imaginative writing. At 365° Total Marketing , our award-winning team has decades of combined experiences as we write and design blogs, publications, profiles, websites, books and articles, ad campaigns, social media strategies, and more.
We believe in the power of people to guide your project from concept to completion. There's no app for that! Let's connect and share ideas that will lift your company off the screen and make an impact.