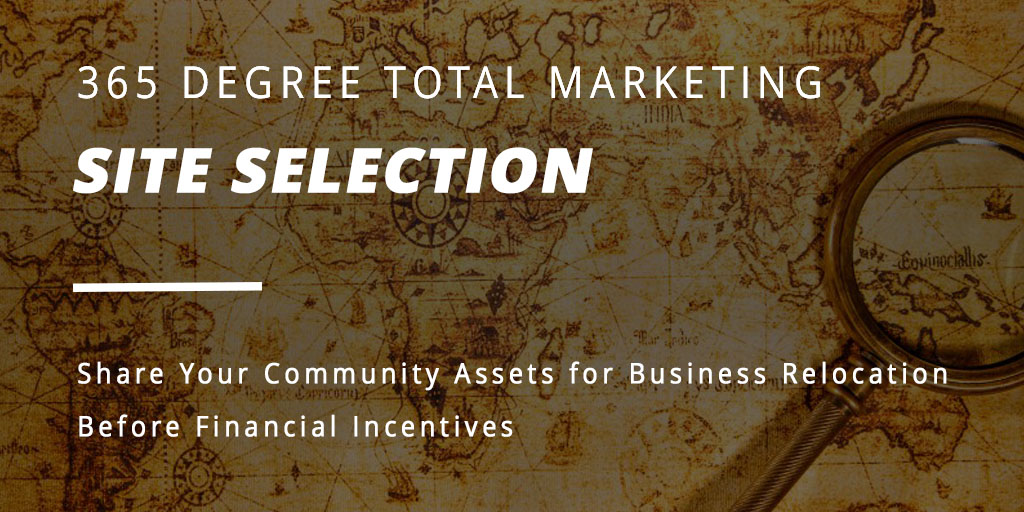 Site Selection: Share Your Community Assets for Business Relocation ̶ Before Financial Incentives
Businesses will go, and grow, in a community where employees desire to live. The goal of site selection is simple: choose the best location to do business.
At 365° Total Marketing, we assist Economic Development Authorities nationwide through research and marketing to promote and attract businesses to the communities where they will thrive. We help you reach the right businesses, through the right messaging, at the right time.
How much weight should you give to offering a financial incentive for business relocation? Financial incentives can play a role, but the more cost-effective effort to attract new firms into your community is to promote your community for its attributes. Long term, the payoff is much greater.
Here's how to set the "bar" for a "gain" (Bargain!) by effectively marketing your non-financial incentives to draw site selectors and industry to your community:
Top 10 Non-Financial Incentives for Site Selection
Data
Available buildings/sites listings
Detailed information on certified sites, available sites, and buildings
Introductions to community leaders
Permitting guidance
Logistics assistance
Assistance with regulatory issues
Labor market analysis
Inventory of educational programs
Peer-to-peer employer experience interviews that allow prospects to speak with other community businesses
Contact us today at 365° Total Marketing to discuss your project from Concept to Completion. We have specialized in destination statistics and marketing for more than 35 years. 365° believes in marketing that moves.
365° Total Marketing, an award-winning, integrated marketing agency based on St. Simons Island, GA, has extensive experience in branding, digital marketing, agency media planning, custom publishing, photography, videography, and website development. For more than 35 years 365° has worked with clients throughout the United States to attract customers and investment nationally and internationally. The company and our clients have won hundreds of awards for their marketing. Employing a full range of talented professionals to fulfill clients' marketing needs, 365° Total Marketing truly goes five degrees beyond for our clients. For more information on everything 365° Total Marketing offers, call 1-800-697-5568 or go online to www.365DegreeTotalMarketing.com.